Surprise Sewing Bee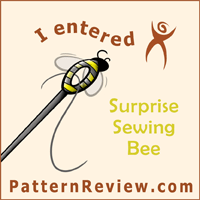 It's been about 2 years since I first decided to try my hand at a sewing contest. That's long enough; I've decided to enter the Pattern Review Surprise Sewing Bee contest. It seems pretty intense a lot like Project Runway. I'll surely be eliminated in round one, it's all in good fun right? I won't be hurt. It feels like I'm blindfolded in front of a firing squad not knowing the exact project that needs to be completed. The element of surprise should bring out our best creation.
Below are new for this contest and you can click here for all the rules that apply (Submission Deadline in bold red font).
**Note this rule which is different from other PR Contests- You must have joined Pattern Review on or before Sept 1, 2014 to be eligible for this contest.
***Note that this contest will be judged by the sponsors of each Challenge not by member votes.
Here is a timeline of the contest that the Contest Committee has developed.
Saturday, November 1 – First Challenge opens
Friday, November 7 – First Challenge closes- reviews due
Saturday-Sunday, November 8-9 – Voting / Judging
Sunday, November 9 – Winner(s) / Eliminations announced
Monday, November 10 – Second challenge opens
Sunday, November 16 – Second challenge closes -reviews due
Monday-Tuesday, November 17-18 – Voting / Judging
Tuesday – November 18 – Winner(s) / Eliminations announced
Wednesday, November 19 – Third Challenge opens
Tuesday, November 25 – Third Challenge closes – reviews due
Wednesday-Thursday, November 26-27 US Thanksgiving
Friday – Saturday, November 28-29 – Voting / Judging
Saturday, November 29 – Winner(s) / Eliminations announced
Sunday, November 30 – Fourth / Final Challenge opens
Saturday, December 6 – Fourth / Final Challenge closes- reviews due
Sunday-Monday, December 7-8 – Voting Judging
Tuesday, December 9 – Grand Prize Winner Announced
Please let me know if you'll be taking part in this contest.
Thanks for visiting, Happy Running & Sewing