All Singed Up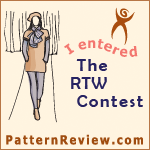 With just 25 days to go, what can I find to fit my style and knock-Off for this contest? I'm heading to Anthropologie and the pin boards Pinterest 🙂 for inspiration.
What I like about A&P
I am a big fan of anthropologie, they have a classic, simplistic, effortless, timeless look, that beckons me. While pinterest, gives me tons of options and ideas that honestly sends me off the deep end. Sometimes I feel like I'm drowning in pins. There's just so much one person can take on and do. It's annoying when all you do is pin and find yourself out of time to make anything you've added to your boards. Yet still you find me checking stuff out.
Hopefully I'll have my inspiration chosen in the next 24hrs, as I've set aside fabric shopping for Tuesday (also rummaging through my stash).
Have a wonderful Super Bowl Sunday and Happy Sewing!