Yes!
After a few years of looking and wondering if this would be good for me, I signed up on Jan 1st 2013. With that said, Saturday will be a busy one for me 🙂
I also joined the January One Pattern Many look contest.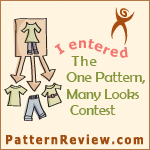 Here comes the hard part – Finding the right pattern and fabric to make a few unique looks in 3 1/2 Weeks. Hopefully I can get a minimum of 3 new looks! I'll keep you all in the loop.
Thanks for visiting,
Happy Sewing