Since finding Ottobre Sewing Magazine this spring, I've fallen in love with it especially the women issue. I've sewn a few pieces for my daughter from the magazine and will work on new Fall coats for my kids. Here are my taughts on the new issue that I'm so patiently waiting to arrive.
Line sheet of all designs coming soon.
Here is the issue for Fall 2009
This blouse looks so comfortable and simple, I love the bronze tone as well,

I'm totally digging this entire ensemble, colors are my thing this is perfect for my busy life of 3 kids under 5 with Fall approaching.

These designs are ok, I'm not sure how I feel about them yet. I do like the blouse, maybe it's the color combination that's hindering my appreciation for it.

Another design that works well for me. I love the color of the skirt, the earthy feeling of these color are enticing and making me want to be done with school and sew all day long. I also love the details at the back of this jacket.
I didn't think that I liked this outfit,but it's growing on me. It has such a school look to it, I felt if I made it I'd look out of place in it.

"I adore"
"Want to start this project soon"
I'm training for a Marathon next year and this is perfect for winter
running.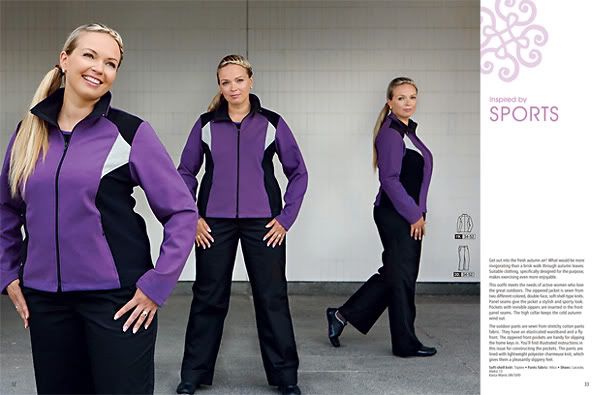 Give me you taughts on these designs and don't forget you can order your own magazine
by visiting OttobreDesigns or their Blog for other crafty insight.